€

37.00
MIKE MORENO Masterclass di chitarra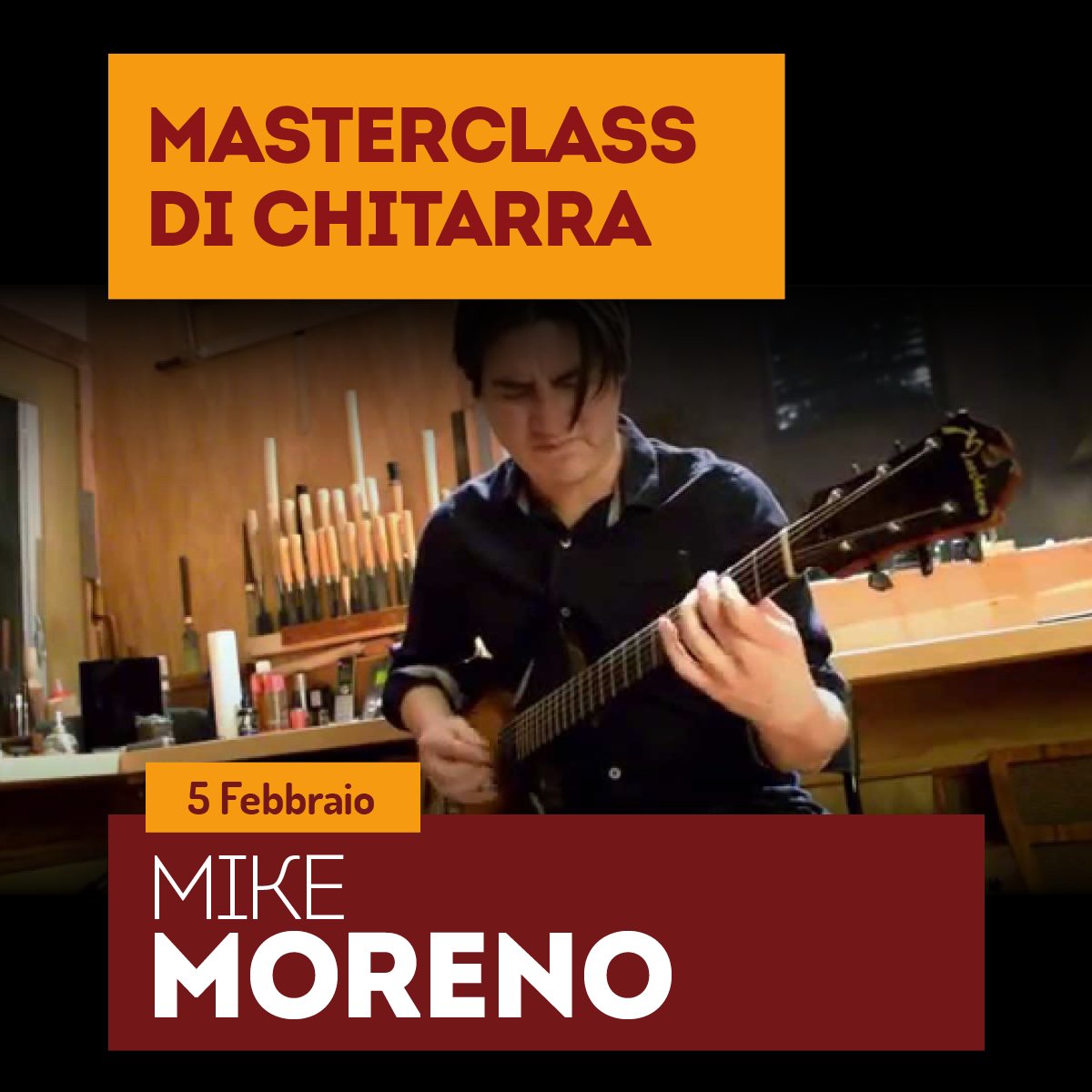 Domenica 5 Febbraio, i Laboratori Musicali ospiteranno la MasterClass del chitarrista americano MIKE MORENO.
Costo: 35 euro + 2 euro di prevendita
Mike ci fornirà una visione del suo emozionante stile chitarristico, la sua tecnica e i suoi concetti di Sound, concentrandosi sul ritmo, suono e Toni.
Originario di Houston, Texas, Mike inizia a studiare musica formandosi alla "Houston High School for the Performing and Visual Arts, scuola rinomata per alcuni illustri nomi quail Jason Moran, Robert Glasper, Brian Michael Cox, Eric Harland, Chris Dave, Kendrick Scott and Beyoncè. Mike spiegherà il suo approccio concentrandosi sul ritmo, suono e toni. Se sei un fan di gioco di Mike Moreno e vogliono imparare ad accompagnare meglio nel contesto jazz, questa serie masterclass di chitarra è per voi.
Finiti gli studi, Mike si trasferisce a New York con una borsa di studio per la New School University. Durante gli studi inizia ad essere notato e viene chiamato in tour con alcuni dei nomi più venerabili del mondo jazz.
Nel corso degli anni si contano nomi quali The Joshua Redman Elastic Band, Lizz Wright Band, Nicholas Payton Quartet, Stefon Harris Sonic Creed, Me'shell N'Degeocello, Jason Moran, Terence Blanchard, Robert Glasper, Ambrose Akinmusire, Gretchen Parlato, Aaron Parks, Claudia Acuña, Greg Osby 4, Wynton Marsalis and the Jazz at Lincoln Center Orchestra, Jef "Tain" Watts, Jaremy Pelt, Jhon Ellis, Myron Walden, Kenny Garret, Yosvany Terry, Ralph Bowen, Will Vinson e tanti altri.
Inoltre, Mike ha regisrato con numerosi grandi artisti, sia della scena jazz che al di fuori, Tre di queste registrazioni ebbero la nomination ai Grammy. Nel 2010 sia "The Renaissance" di Q-Tip che "Aurea" di Geoffrey Keezzer ebbero la nomination per i "Best Album" nella loro categoria, così come nel 2008 "Re-imagination" di Eldar ricevette la stessa nomination nella categoria Jazz. La discografia di Mike Moreno include anche artisti come Bilal, Jeremy Pelt, Robert Glasper, John Ellis, Aaron Parks, Jimmy Green, Myron Walden, Sam Yahel, Ralph Bowen, Marcus Strickland, Yosvany Terry, Kendrick Scott Oracle, Will Vinson e Bob Reynolds.
Riconosciuto come una delle voci più importanti nel mondo della chitarra jazz, Mike ha girato molto e ha registrato come leader della propria band, suonando la sua musica originale tanto acclamata dalla critica. Come descrive Nate Chinen nel suo articolo del JazzTime "The Gig" del 2007 "There are many other guitarists out there pushing towards a moderni deal, but none with the precise coordinates that Mike Moreno has charted."
Nel 2007, Mike pubblica il suo primo CD "Between The Line" per la World Culture Musica Label, che Nate Chinen ritiene tra I migliori 10 album jazz del 2007 sul The New York Times. Registra il suo secondo e terzo album, "Third Wish" 2008 e "First in Mind" del 2011, per un'etichetta discografica europea jazz, la Criss-Cross Records. Ritorna alla World Culture Music per pubblicare "Anoteher Way" inserito tra I 25 "Best of 2012" su Itunes. Il suo album più recente "Lotus" è stato appena pubblicato.